About
Want to Know About Me? Read Here
I am the webmistress ,and I went to a couple schools throughout my life. I learned a lot ,and a lot I forgot. I go back to school to refine my education. I am a: Model , Actress , Rap Artist [ I was a songwriter under Bmi ] ,etc. I work for a independent recording label ,and promotion company named: Lo Down Entertainment. I enjoy working for them ,and I love listening to demos. To learn more about me read my page at: lovecd45 on myspace.com .
The History or Story Behind My Site
My business got started ,because I wanted to work in the industry. I was a extra on the corner ,but I didn't gert to do my part. However, I can be spotted by the meal truck 15 minutes towards the end of the last episode of the corner. The last channel the corner aired on was: BET [ Black Entertainment Television ]. I have auditioned for Beauty Shop 2 ,and went to the casting call for XXX state of the union [ with ice cube ]. I also went to a clothing line audition for scandolous by design. I have worked with 5 photographers ,and I have been in a independent magazine. I have been a featured model in Mr. Titchnell's [ a photographer ] yahoo group , I have been featured on capitol cuties ,and southern girl modeling.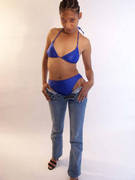 Check out my modeling page on myspace ,which is: crystald26987
Want to know more about me ,email me.
My Contact Information
Links to Other Sites